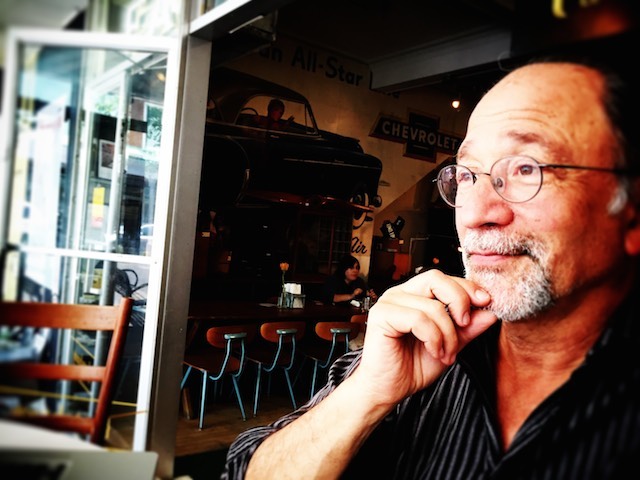 "What is now proved, was once only imagined." -- William Blake
Greetings! Mitch Ditkoff here and welcome to my website. My work is all about helping forward thinking organizations get out of the box and raise the bar for innovation. I've been doing this since 1987 and will continue doing this for as long as humanly possible. My premise is a very simple one: "Organizations don't innovate. People innovate." In other words, unless the individuals within an organization -- on fire with renewed commitment -- are willing and able to open their minds to bold, new possibilities, innovation will not happen. Simply put, innovation is far more a function of mindset than it is skillset. You can teach people a thousand tools and techniques, but unless their default position is one of "what if" and "wow", you don't have snowball's chance in hell of anything changing for the better. As one wise pundit put it, "it's not what you look at that matters, it's what you see." I help people see and turn what they see into new products, new services, and meaningful new ways of doing business -- and all in a way that is engaging, empowering, and fun.
How did I get into this field? Not the straight and narrow way, that's for sure. I studied English Literature in college (Lafayette) and poetry in graduate school (Brown). I almost died at 21. I saw an angel at 27. For several years, I had no career whatsoever, working at various jobs "beneath my station" in a classic attempt to find myself or lose myself -- whichever came first. Disenchanted with the world, I moved into an ashram and lived the life of a modern day monk for five years. That experiment over, I got deeply in touch with my passion for creativity and launched Idea Champions, with my best friend, when I was 40. Soon, we hit it big, being the originators of the first creative thinking training AT&T ever licensed. Got married and had two kids. Wrote two award-winning books you've probably never heard of. Was voted the "Best Innovation Blogger in the World" two years running. Became an adjunct faculty member at GE's Crotonville Management Development Center and several other highly acclaimed leadership development programs. And so on and so forth…
If you want to hear the rest of my story, feel free to contact me. For now, allow me to answer one basic question: Why should you engage my services? Here's why: 1) I know how to get people out of the box; 2) I inspire audiences, large and small, to actually innovate on the job and; 3) My clients will tell you that what I do (and how I do it) makes a profound difference in people's lives. My favorite food? Sushi. My favorite comedian? George Carlin. My favorite quote: "I want to put a ding in the universe." (Steve Jobs). OK, enough backstory. It's time to check out my keynotes or videos or maybe read a funny Huff Post article of mine that has not, shall we say, endeared me to the pharmaceutical industry.
Keynotes
I offer three different keynotes for organizations attempting to raise the bar for innovation. Each one is provocative, mind-opening, and customized to meet the specific needs of my clients. If you want to explore the possibilities, contact Mike Frick, my totally awesome agent, at Speaking.com.
Fostering a culture of innovation
Changing a corporate culture is about as easy as getting a teenage girl to clean up her room. Translation? Good luck. OK, so it's not easy, but it is simple. If you want to establish a culture of innovation in your organization...
Catalyzing the Creative Mind
Psychologists, for the past 50 years, have disagreed about a lot of things. One thing they haven't disagreed about is what age a human being is most creative. The answer? Five. That's right, five. After that, it's a slow and steady decline into conformity, convention, and addiction to data – not exactly a formula for breakthrough innovating on the job...
Storytelling At Work
This just in: There is a very good chance that the dominant story being told in your organization these days is an old one – a narrative that binds your enterprise to the past. Not a good idea. As Steve Jobs once said...
Yes, I facilitate workshops – one for each of my three Keynotes -- Fostering a Culture of Innovation, Catalyzing the Creative Mind, and Storytelling at Work. In the 25 years I've been doing this work, I've learned a lot about how to create the optimum conditions for real learning and behavior change. What I've understood is this -- that unless people are enjoying their time with me and are confident they can apply what they learn back on the job, I won't have their full attention. Which is why all of my workshops are hands on, entertaining, and designed to get results. Each workshop is preceded by a brief needs assessment process -- an online poll and phone interviews with a cross-section of participants so I receive the input I need to design the most engaging and productive session possible. Click here for more about my approach.
"The two day retreat you designed and facilitated for our leadership team was excellent. You helped transform our meeting into a truly dynamic and worthwhile experience." – Abbe Raven, CEO, A&E Television Networks
"As a result of your efforts, I now have the most highly motivated, self-driven, creative and fun team this division has seen in recent history." – Karen Buczek, Marketing Manager, General Mills
"Mitch Ditkoff's highly engaging approach, combining creative energy and business practicality, is a real winner. His process and practical tools help people experience innovation in the moment, and more importantly, enables them to apply the learning back home with their own teams." – Mike Canning, Managing Director, Duke Corporate Education
"As I reflect on your workshop, I find that the takeaways from that single day have proved much more valuable to me than some of the more extensive consulting inputs I have received from large brand name consultants my company interacts with. The practical emphasis you made on the human side of innovation hits the mark." – Harry Kiskaddon, Vice President, Alcoa
"Mitch Ditkoff offers pragmatic tools and insights that enable innovation. His approach is engaging, encouraging and creates an impetus for participants to apply the learning immediately." – Michael Serino, Senior Director, Merck
"Mitch Ditkoff has been a partner with the Chubb Business School for four years and has helped us drive the skillset and mindset of innovation throughout the organization. Definitely solid ROI!" – Mary Ann Heenehan, Corporate Groups Development Manager, Chubb Insurance
CONFERENCES
"The best way to predict the future is to create it." – Alan Kay
Keynotes I do alone. Workshops I do alone. But not conferences. Why? Because conferences are a many-faceted diamond that requires a team effort – especially when a client wants their high profile offsite to have long-lasting impact. The people on my conference delivery team, many of whom I've collaborated with for years, are the best of the best. Skillful. Soulful. Experienced. Adaptable. And a joy to work with….
ideation
"I can't understand why people are frightened of new ideas. I'm frightened of the old ones." - John Cage
Since 1987, I have been designing and facilitating ideation sessions for a wide range of forward thinking organizations – from multi-billion dollar global corporations to bootstrap non-profits. These organizations, to the untrained eye, may all seem to be different, but if you look behind the curtain, you'll see that they all share one thing in common – a pressing challenge, problem, or opportunity that requires a diverse group of people to come together and conjure up bold new possibilities. Enter "Big Vinny from Chicago." That's me, folks – a highly skilled conductor of the creative process who knows how to elicit brilliance from even the most left-brained, turf-driven people. Sessions typically last 4-8 hours. It's not uncommon, when the sessions are over, for participants to ask me how they can learn to facilitate these kinds of experiences. "No problem," I tell them. "Master Trainers are standing by".
Click here for videos of me on this topic.
"The ideas developed in your session will guide our development for years to come." – Robert Rubin, Product Development, AT&T
"I want to note how impressed we all were with your insight and understanding of our business and creative needs, as well as the varied and constructive techniques you used to take us through the creative process." – Gabrielle Del Sesto, VP, MTV Networks
"We've used Mitch Ditkoff's Ideation Jump Start webinar to kick off nine virtual innovation events around the world. His webinars have been invaluable in helping diverse and remote teams around the globe focus on the essentials of great idea generation." – Jon Bidwell, Director of Innovation, Chubb Insurance
"Superb! Everyone was impressed with your ability to spark and harness the collective ingenuity of our group." – Craig Harden, Global Risk Manager, Scotia Capital
"At the risk of sounding hyperbolic, Mitch Ditkoff's ability to quickly and effectively teach my colleagues and me how to facilitate brainstorming sessions changed the future of our business." – Mandy Kalajian, VP, Mirrorball
"Several of the ideas we came up with in your brainstorming session are being developed into concrete projects that are looking like very profitable opportunities." – Rudy Villa, VP, GE/RCA Licensing
"As a result of Mitch Ditkoff's brainstorm facilitation efforts, we have implemented more than 250 value-added Big Idea projects." – Joe Belinsky, Professional Development Manager, Goodyear Rubber and Tire
"Extremely engaging and enlightening brainstorming sessions." – Karen Lazan, Marketing Director, Pfizer
If you are in the process of conjuring up a new product, service, or business and want some help turning your big idea into reality, I can help. For the past 28 years, I have been an innovation catalyst to some of the most forward-thinking organizations in the world -- helping thousands of people go beyond their assumptions, doubts, and obstacles in service to bringing something wonderful into existence. And now I am offering this service to individuals.
I know how thrilling it is to conceive and develop bold, new ideas. I also know how challenging it is. Manifesting your brilliance, as an entrepreneur, maverick, artist, or lone wolf is not easy. Support is needed. Lots of it. Unfortunately, that support is all-too-often not forthcoming, even from family and friends.
Follow Your Muse is a one-on-one coaching and mentoring service for aspiring innovators with BIG IDEAS, big commitment, and the recognition that they will benefit from having a skilled creative process ally by their side. That would be me.
Here's what Thomas Wolfe said about the phenomenon. Here's what my clients say about the value I add. Here's 100 quotes on what it really takes to innovate. And if you're anxious about starting something new, read this.
Intrigued? The next step takes 20 seconds. Just shoot me an email (mitch@ideachampions.com) and I will get back to you with more details. Then, if you're still interested, we can schedule a time to talk. Like tomorrow, for instance. Or maybe the day after.
Writing
"If you tell the truth, you don't have to remember anything." - Mark Twain